There is no one-size-fits-all approach to due diligence. Ethixbase360 offers configurable options proportionate to risk exposure, no matter where you are in your business journey.
A third-party risk management platform and methodology configured to your business needs, with efficiency and speed
Ethixbase360 supports your business' third-party anti-bribery & corruption, modern slavery, and ESG risk management with scalable platform & modular point solutions. Our Explore, Enhance and Engage methodology enables companies to manage their supply chain based on risk exposure from low-touch automated screening across the entire network to enhanced due diligence and hands-on engagement with high-risk suppliers and intermediaries.
Risk Assessment & Screening Solutions
By ensuring a consistent, automated third-party risk assessment, Ethixbase360 allows you to prioritize third-party reviews across your compete network, allocating resources and budgeting effectively to ensure your team has the right intelligence to follow up on any potential risks and make informed decisions. 
Third party verification & KYP forms
Configured Perceived Risk Indicator (PRI™)
Adverse Media & Political Exposure
Ongoing Monitoring & False Positive Remediation
When you need to know more, Ethixbase360's Enhanced DueDiligence reports offer a risk-based approach to deep-dive, comprehensive investigations.Third parties are reviewed by your experienced multi-lingual analysts with research and checks performed through our proprietary database, as well as publicly available and ethically sourced information in both English and the local language.
Litigation, Criminality & Bankruptcy
Ultimate Beneficial Ownership (UBO)
Local language analysis and discreet inquires
GAP analysis & executive risk summary
Engagement & Certification Solutions
Elevate standards, facilitate transparency, and promote principled performance among third parties by engaging directly on key areas of concern and opportunities for improvement. The Ethixbase360 suite of Engagement solutions provide risk specific assessments to support compliance with specific regulation in addition to opportunities to collaborate with third parties to drive transparency, improvement and evidence compliance via certification.
How it Works, by Risk Area
Explore ESG risk and resilience across your complete value chain to uncover third party vulnerabilities and engage directly to elevate standards.
Take a risk  based approach
across sanctions, adverse
media and political exposure
screening to multilingual
enhanced due diligence
research, questionnaires,
policies, training and
certification. All with a full
audit trail.
Assess risk and demonstrate
compliance to stakeholders and
regulators with robust year on year reporting while combatting modern slavery risks in your
supply chain.
Let's talk. One of our representatives can help you shape your project.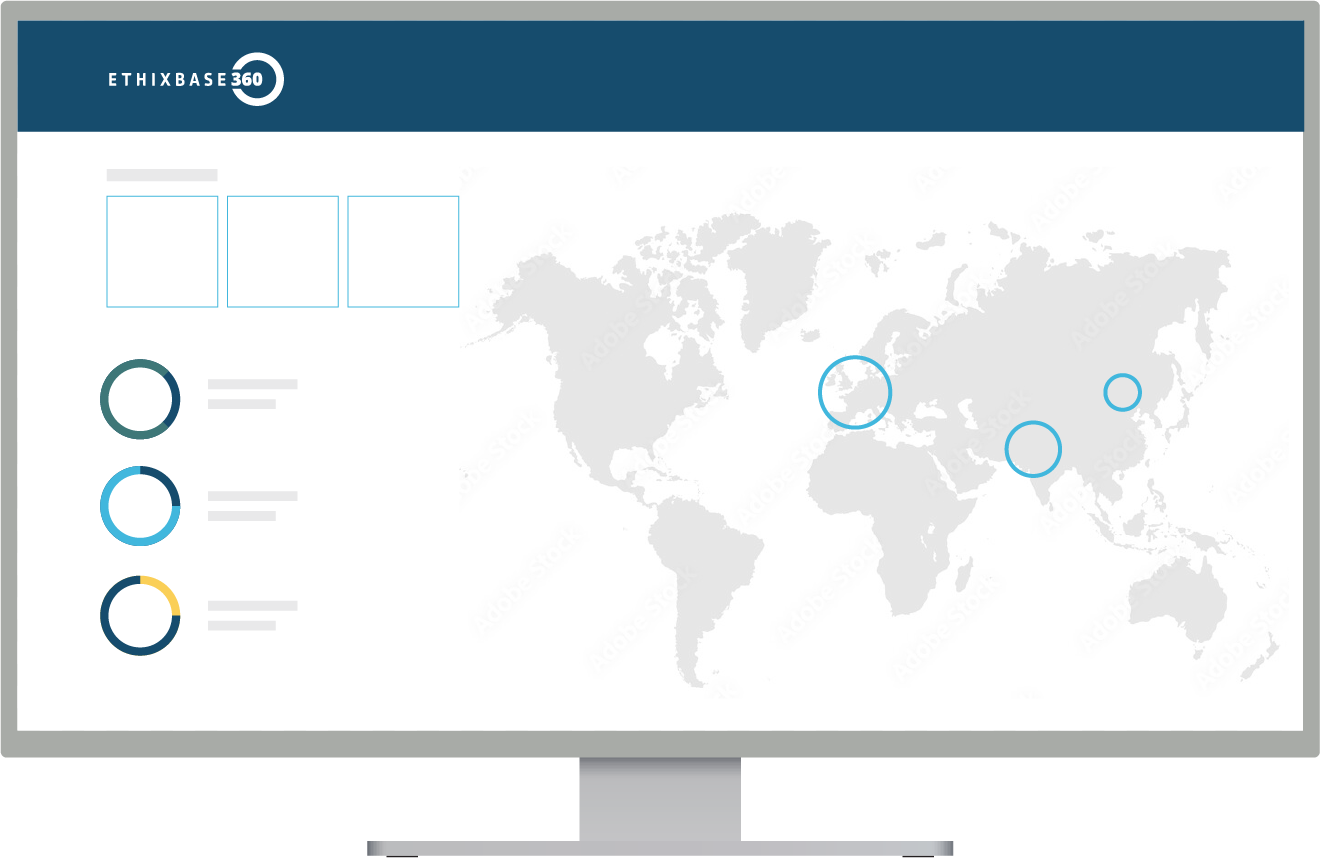 Ethixbase360 is committed to keeping your data safe and that journey starts with our commitment to privacy and compliance.